I wrote this for the TCS Network, in regards to recent action taken by the Met Police. Feel free to message me and check more amazing content from the TCS network on their website.
What's happened so far?
by Akwasi Appiah
On Wednesday, YouTube, on request from the Metropolitan Police, took down over half of the 'violent' drill songs on their platform.  Songs by artists such as 67, 1011 and Hemz have been targeted. Met Commissioner Cressida Dick stated that "Drill music is associated with lyrics which are about glamorising serious violence: murder, stabbings," and thus is the reasoning behind the call to remove the videos. Drill music, which originates in Chicago, has become increasingly more popular in the capital with many young people saying it is a reflection of modern society in urban areas of London. It is a style of trap music, defined by 'its dark, grim, violent, nihilistic lyrical content and ominous trap-influenced beats'.
67 are one the most notorious drill artists it is yet to be confirmed if their videos will be removed.
ItsPressPlay an Instagram Drill promotion channel had a meeting with YouTube last week and shared a statement via an Instagram post that was recently taken down.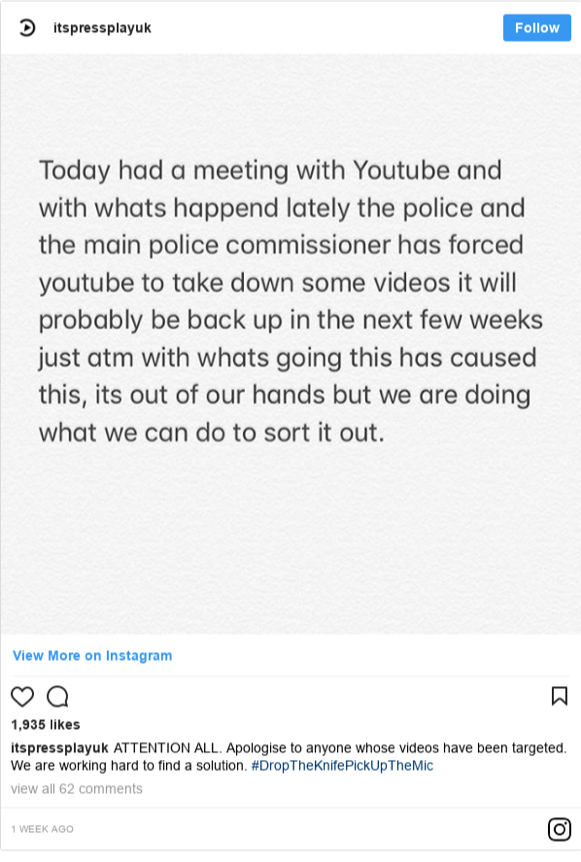 They anticipate that the videos will be put back up and if they are, it proves that the action taken was a political agenda to deflect from the realities of the cuts affecting the police department. As of the 30th of May there have been 37 stabbings in the capital. Numbers not seen in many years. Yet still only on the 24th of May were further cuts announced to police dog units in the capital and home counties.
Questions must be asked by the public on whether this attack by the Metropolitan police on drill music is something that should be condoned. For years Heavy Metal has been listened to by swathes of young people. Yet its content has been heavily focused on the 'dark side' openly discuss drugs, drug overdoses and suicide. In addition, questions must be asked as to where the requests will stop. At the time of writing this article, Drake and Pusha T have been caught up in a 'rap war.' Pusha T directly attacked Drake's producer Noah Shebib who suffers with Multiple Sclerosis.
OVO 40, hunched over like he 80, tick tick tick,
How much time he got he sick,sick,sick
Many, even those who are frequent hip-hop listeners, would argue that this direct attack on someone deteriorating health is 'below the belt.' But within hip hop culture and rap culture anything goes and it is part of the culture. Many would not condone Pusha T's words and it is unlikely to spark a wave of hate against those with MS. The majority of people listen to music, as a form of entertainment, and it does not transfer or even correspond with their day-to-day lives or behaviour. Where will the accusations and blaming end?